The News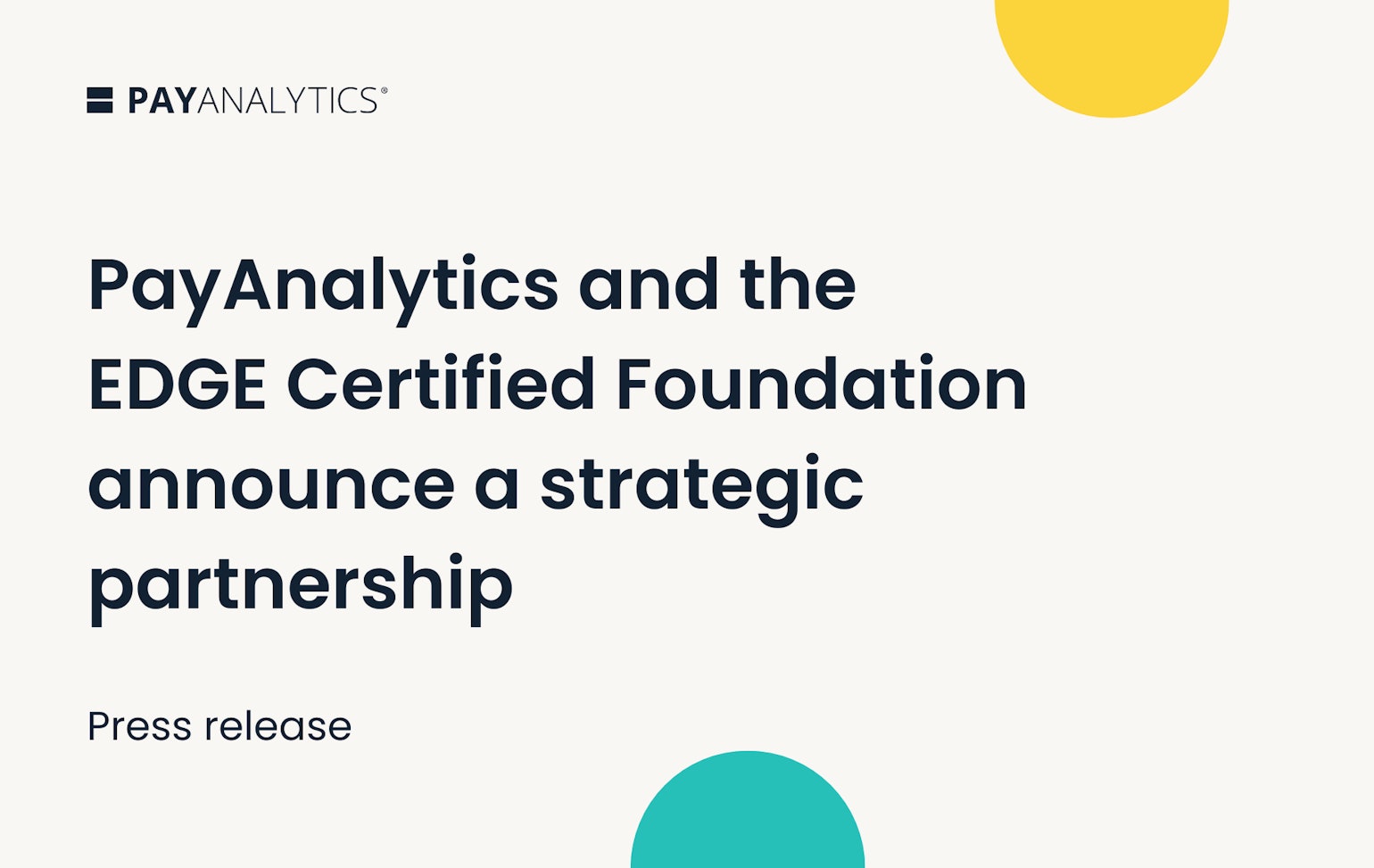 PayAnalytics, a trailblazing pay and workplace equity software provider, and the EDGE Certified Foundation, the custodian behind the EDGE Certification for diversity, equity, and inclusion (DE&I), today announced a strategic partnership. Through their shared mission of fostering equal opportunities irrespective of gender identity, sexual orientation, race, age, or ability, PayAnalytics and EDGE Certified Foundation jointly empower employers to build equitable workplaces.
The EDGE (Equity, Diversity, and Gender Equality) Standards are one of the foremost standards for measuring DE&I from an intersectional perspective. Launched at the World Economic Forum in 2011, more than 250 organizations in 57 countries have attained EDGE Certification. Achieving EDGE Certification is a testament to an employer's DE&I commitment, signaling to employees, investors, and the public that an organization has documented and received third-party confirmation of their workplace equity and inclusion practices.
As part of the EDGE Certification process, organizations must conduct a pay equity analysis, utilizing the method prescribed by the EDGE Certified Foundation to determine whether there are unexplained pay gaps between women and men, or a methodology endorsed by the EDGE Certified Foundation. The edge-compliant analysis shall be performed using ordinary least squares linear regression.
By undergoing a comprehensive validation process that scrutinized the methodology of PayAnalytics' pay equity analysis—covering variables, raw data input, result calculation formulas, statistical significance tests, and output generation—PayAnalytics' solution has received independent validation, affirming its compliance with EDGE Certification requirements and its status as an EDGE-compliant solution for pay equity analysis.
"Organizations embracing the PayAnalytics solution attain a clear advantage on their journey to achieving EDGE Certification by proactively fulfilling one of the four core pillars of the EDGE Standards framework."
"It is a natural progression for our clients to seek external verification of their pay equity results, and we are delighted that EDGE has recognized us as an easy to use, state-of-the-art pay equity platform," Dr. Margrét Vilborg Bjarnadóttir, co-founder of PayAnalytics and Professor of Management Science and Statistics at the Robert H. Smith School of Business, commented. "Our goal at PayAnalytics has always been to provide a world-leading pay equity solution, focused on not only measuring pay gaps but also on supporting decision making to address any pay inequity issues."
"We see an increasing trend toward certifications that will continue to ramp up for years to come. Seeking external verification of pay equity fosters companies' credibility, enhances their reputation, and promotes fairness. One of PayAnalytics' key focus areas is to support companies as they achieve this goal, and we are thrilled to make it easier for our customers to achieve EDGE certification," COO of PayAnalytics, Sigurjón Pálsson, said.
About PayAnalytics
PayAnalytics' solution is an intuitive and easy to use compensation and workplace equity software for human resources practitioners, such as compensation managers, and consultants helping clients to reach pay equity. The pay equity analysis software is used in 75+ countries by employers of all sizes, from small businesses to global enterprises, wherever they are on their fair pay journeys.
The solution is built on over a decade of research and development by award-winning professors in statistics and management science, engineers, and human resources experts. Please feel free to reach out to us at any time if you'd like to discuss how PayAnalytics can help you to pursue this significant milestone in your organization's history. We'd love to give you a tour of the software in a 1:1 with our fair pay specialists.
About EDGE Certification
EDGE Certification is an independent third-party certification launched by the EDGE Certified Foundation at the 2011 Annual Meeting of the World Economic Forum in Davos. Initially designed for workplace gender equality, EDGE Certification's aim is to encourage organizations to measure, be transparent, and be accountable on where they stand and how they progress in Diversity, Equity, and Inclusion (DE&I). In 2020, EDGEplus Certification was added to cover the full spectrum of DE&I at the intersection between gender with gender identity, race/ethnicity, LGBTQ+, age, nationality, and working with a disability status.