Vidir Ragnarsson from PayAnalytics participated in an event at Felleshus (Nordic Embassies in Berlin) hosted by the Icelandic Embassy in Berlin with PayAnalytics and FPI Fair Pay Innovation Lab GmbH.

In his presentation, Vidir discussed the Icelandic legislation on the Equal Pay Certification four years after it came into effect as well as how PayAnalytics is building software that helps organizations close their Pay Gaps and keep them closed. After Vidir's presentation, an excellent panel discussion took place with Tatiana Lluent, Vidir Ragnarsson and Paul Kupfer. The panel was moderated beautifully by Katinka Brose.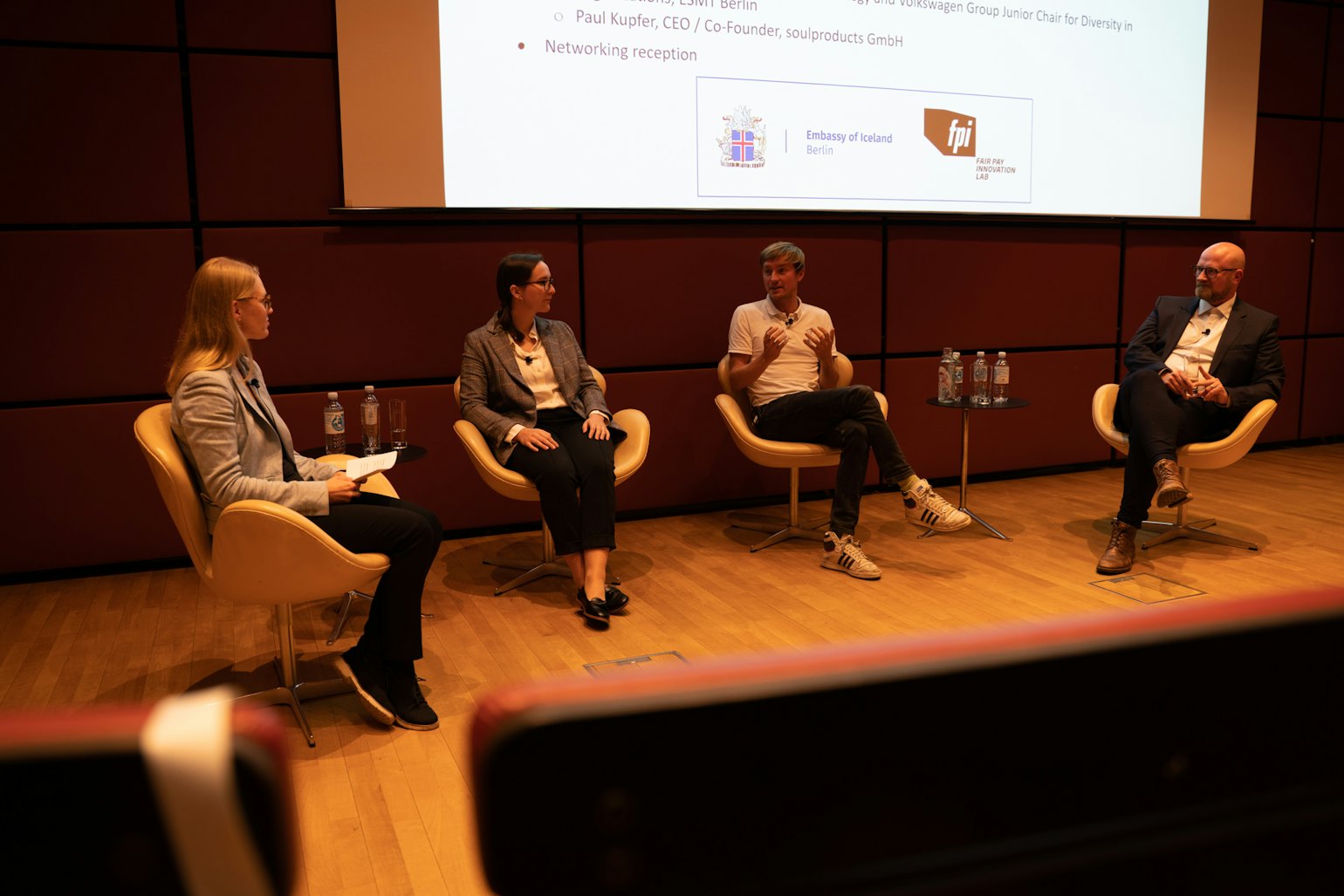 Tatiana Lluent does research on the importance of different factors like management and culture on gender inequality in the economy. She is an assistant Professor of strategy and Volkswagen Group Junior Chair for Diversity at ESMT Berlin. Paul Kupfer is the CEO of soulbottles which has been manufacturing sustainable plastic-free bottles since 2012. Paul described some of the challenges of building a Pay Structure in a startup company while keeping the system transparent.
Key takeaways:
Vidir Ragnarsson: In Iceland, the Equal Pay Certification has been successful. It has brought the gender pay gap down within companies and on a national level. The key is to start measuring and analyzing the data and build an action plan to close the pay gaps and better understand what drives your pay decisions.
Tatiana Lluent: Transparency is key to closing gaps - no matter dealing with promotions, corporate culture, women in leadership positions, or fair pay. So far, fair pay has been discussed too little, although the impact on changing corporate cultures is remarkable.

Paul Kupfer: When we started our company, we implemented transparent and open structures right from the start. The challenge comes with growing: How do we value jobs and people's tasks when they join? We have already had a number of pay systems and keep updating our pay structures regularly.